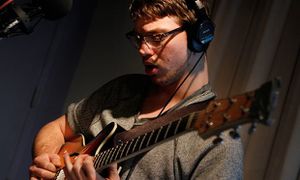 "Twin Peaks: Winsome And Rollicking Garage Rock
For a band that shares its namesake with a certain influential TV drama, Twin Peaks soundsnothing like the quirky and unsettling moods evoked in the David Lynch and Mark Frost series -- nor the eerie dreamscapes composed by Angelo Badalamenti. Instead, the young Chicago garage rockers simply chose their name because it "sounded cool." It does, certainly, but the band's sneering bursts of feedback and scorching guitar riffs also sound way cool -- especially when cranked up real loud.
On its latest record, Wild Onion, Twin Peaks rolls through 16 short and searing bangers that owe a debt to '70s glam and Nuggets-era psyche rock -- but with the punked-up wallop of the current Bay Area scene like Thee Oh Sees and Ty Segall and Chicago's own HoZac Records. You can hear that in "No Way Out," "Flavor" or "Making Breakfast," which mingles fever-inducing power chords and a Lou Reed-esque plain-sung delivery. But in tracks like "Mirror Of Time" or especially "Ordinary People," they sing in a loose and almost sweet melodic way, Twin Peaks' also shows a capacity for winsome power pop. It's this combination of melancholy and rollicking that makes Twin Peaks' equally at home in a cramped DIY space or at a smoky, laid-back hang in your parents' basement, circa 1976."
Friday October 24 2014. Source : http://soundcheck.wnyc.org/story/twin-peaks-in-studio/