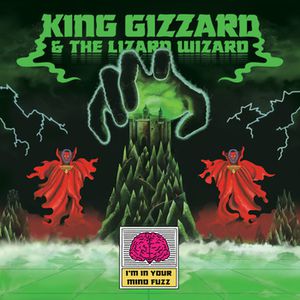 "This album is built for the pub band room – shirts soaked in sweat, shoes missing, overly intoxicated men with perspiration dripping from their long matted hair and beards. Pure, unadulterated fuzz oozes from the LP as every second passes. Dirty, hazy and in total pandemonium, I'm In Your Mind Fuzz leaves you begging for more of that lo-fi goodness once the psychedelic adventure comes to a close". (Meaghan Weiley- TONEDEAF)
"The fear of diminishing returns hasn't fazed prolific garage-psychers King Gizzard & The Lizard Wizard, as their new album comes only six months after the release of Oddments, marking their fifth record in two years.
Despite the disappointment of Oddments as an overall album, I'm In Your Mind Fuzz shows a growing sense of cohesion among the band members that is starting to catch up to their fervent creativity.
The album kicks off with a motorik dream grind in I'm In Your Mind, a fuzz-blown wailer with brilliant harmonica and guitar solos with potential to spiral out ad infinitum – a brilliant opener. The sense of fun continues with next track I'm Not In Your Mind, a trailing instrumental that eats its own tail. Cellophaneis a hypercolour wet dream, and the title track completes a sweat-inducing four-peat suite of breakneck ecstasy. The paisley pop of Empty gratefully slows things some; Hot Water manages to both whisper and raise the heart rate with that metronomic Krautbeat they master so well; Am I In Heaven? spreads out over eight minutes, a somnambulist's glorious nightmare.
Things are still weird – Satan Speeds Up and Her And I (Slow Jam 2) play out like a lysergic Cream – but it all makes absurd sense. I'm In Your Mind Fuzz is a behemoth of warp and fizz that blows the speakers and the mind. More of this please". ( Brendan Telford- The Music.com.au)