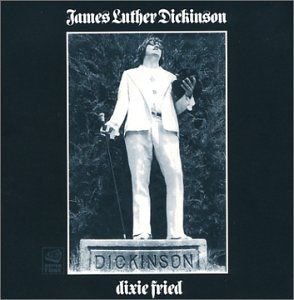 James Luther Dickinson - Dixie Fried
Jim Dickinson passed away 4 years ago (August 15, 2009)
In 1972 Dickinson released his first solo album, "Dixie Fried"
Label : Atlantic Records
Year : 1972
Produced by Tom Dowd & Jim Dickinson
Recorded at Criteria Studios, Memphis



Tracklist:

1A - Wine
2A - The Strength Of Love
3A - Louise
4A - John Brown

5B - Dixie Fried
6B - The Judgement
7B - O How She Dances
8B - Wild Bill Jones
9B - Casey Jones (On The Road Again)

PERSONNEL

Jim Dickinson Vocals, Piano
Charlie Freeman Guitar
Tommy McClure Bass
Mike Utley Keyboards
Sammy Lee Creason Drums
Mac "Dr. John" Rebbenack Piano
Albhy Galuten Toe Piano
Jeff Newman Pedal Steel Guitar
Jack Pennington ?
Gimmer Nicholson Guitar
Charlie Lawing Alto Sax
Mike Ladd Guitar
Terry Manning Vocals, Guitar, Electric Piano
Jeanie Greene Back-up Vocals
Mary Holiday Back-up Vocals
Ginger Holiday Back-up Vocals
Jimmy Crosthwait ?
Joe Gaston Bass
Sid Selvidge Guitar, Piano
Eric Clapton ?
Ry Cooder ?
"A trop s'occuper des autres, Dickinson n'a guère le temps de produire ses propres disques. Son premier album («Dixie Fried») est sorti sur Atlantic en 1972, après qu'il eut quitté les Dixie Flyers, la section rythmique qui officiait à son studio depuis des années. Un seul morceau était original, le reste était composé de chansons obscures d'auteurs mésestimés comme John Hurley et Bob Frank au côté de sublimes versions de «John Brown» de Dylan, ou de «Casey Jones» de Furry Lewis. Nick Tosches a justement qualifié «Dixie Fried» comme «l'une des musiques les plus bizarrement puissantes du siècle, un baptême du rythme puissant et amoral". (John Lewis/VIBRATION)

Some highlights: ( )




In the late 1960s, Dickinson joined with fellow Memphis musicians Charlie Freeman, Michael Utley, Tommy McClure and Sammy Creason; this group became known as the "Dixie Flyers" and provided backup for musicians recording for Atlantic Records. Perhaps their best-known work was for Aretha Franklin's 1970 Spirit in the Dark.
In December 1969, Dickinson played piano on The Rolling Stones' track "Wild Horses" at Muscle Shoals Sound Studio in Alabama
In 1972 Dickinson released his first solo album, "Dixie Fried", which featured songs by Bob Dylan, Furry Lewis, and the title song by Carl Perkins.
In 1974 he produced Big Star's Third
Co-produced with Alex Chilton on the 1979 Chilton album Like Flies on Sherbert.
He has produced Willy DeVille, Green on Red, Mojo Nixon, Neon Wheels, Jason & The Nashville Scorchers, The Replacements,Tav Falco's Panther Burns, Screamin' Jay Hawkins, and The Dick Nixons, among many others
in 1977 an aural documentary of Memphis' Beale Street, Beale Street Saturday Night, which featured performances by Sid Selvidge, Furry Lewis and Dickinson's band Mud Boy and the Neutrons.
He has also worked with Ry Cooder, and played on Dylan's album Time Out of Mind.
He played keyboards, Wurlitzer electric piano, pump organ on "Love Sick", "Dirt Road Blues", "Million Miles", "Tryin' to Get to Heaven", "Til I Fell in Love with You", "Not Dark Yet", "Can't Wait", and "Highlands"
In 1998, he produced Mudhoney's, Tomorrow Hit Today.