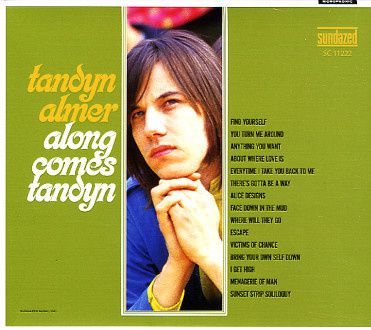 TANDYN ALMER / ALONG COMES TANDYN / 26/03/2013 LP SUNDAZED
1. Find Yourself
2. You Turn Me Around
3. Anything You Want
4. About Where Love Is
5. Everytime I Take You Back To Me
6. There's Gotta Be A Way
7. Alice Designs
8. Face Down In The Mud
9. Where Will They Go
10. Escape
11. Victims of Chance
12. Bring Your Own Self Down (The Purple Gang)
13. I Get High
14. Menagerie of Man
15. Sunset Strip Soliloquy
Tandyn Almer, enigmatic composer of 'Along Comes Mary,' dies at 70 (January 8, 2013)
(Source : Matt Schudel,February 16, 2013 The Washington Post)
When Tandyn Almer was 23, he wrote a catchy pop song that topped out at No. 7 on the Billboard charts. Great things were expected of him as a songwriter, and some thought he might even become a star in his own right.
But in all the decades that followed, there were few triumphs, and certainly nothing like the acclaim he received for composing the words and music of "Along Comes Mary."
In 1966, the bouncy, enigmatic song became the first hit for the Association, one of the most popular bands of the era. Mr. Almer was praised as a musical mastermind who brought a fresh sophistication to the sun-dappled pop-rock of the time.
He was interviewed on national television by Leonard Bernstein, the conductor of the New York Philharmonic, and recorded an album of his own music. He became a close friend of Brian Wilson, the troubled creative force of the Beach Boys, with whom he collaborated on a couple of tunes in the 1970s.
And then he disappeared.
From time to time, people interested in the music of the 1960s wondered what had become of the young composer with so much promise. His half brother, Nicholas Minetor, recalled reading online speculation about whether Mr. Almer was still alive.
"That just tickled him to death," Minetor said. "He liked being mysterious. And we knew he was living in a basement in Virginia."
For the past few years, Mr. Almer had occupied an unkempt basement apartment in McLean, where he died Jan. 8. He had a combination of atrial fibrillation, congestive heart failure and chronic obstructive pulmonary disease, according to his sister-in-law, Randi Minetor.
He was 70. Several acquaintances were surprised that he had lived that long.
For years, Mr. Almer had no health insurance. He had been a chain smoker and made no secret of a bipolar disorder, which often led to dramatic mood swings. His right leg was amputated below the knee in 2011.
He told people that he came to Washington in the mid-1970s to compose music for a movie but that the project fell through. Stranded and all but penniless, he simply stayed. He didn't become a recluse, exactly, but the heady days when he almost became a star were long in the past.
Yet somehow, Mr. Almer was never quite forgotten. Among fans of California sunshine pop, he remains something of a cult favorite, and tributes began to appear after his death. An online disc jockey played his music for an hour. An album of 15 of his songs, recorded by a British group in the 1960s, is scheduled for release in March.
"He's one of the lost and hidden voices of the '60s, and he left behind a body of work that's ripe for rediscovery," said Parke Puterbaugh, a former senior editor of Rolling Stone who wrote the liner notes to "Along Comes Tandyn," the album coming out on Sundazed Records. "There's a whole catalogue of incredible songs that he wrote that no one's ever heard."
When Puterbaugh began working on the project about five years ago, he didn't know whether Mr. Almer was alive or dead. He eventually found an address in Northern Virginia and wrote a letter. A few months later, his telephone rang, and Mr. Almer was on the other end.
Although they never met in person, they often spoke about Mr. Almer's personal history and his journey in music. Their last conversation took place Dec. 28.
"He was of the caliber — although he wasn't as prolific or as well known — as Brian Wilson," Puterbaugh said. "He was very gifted, but he lived a kind of subterranean life."
Musical prodigy
Tandyn Douglas Almer was born July 30, 1942, in Minneapolis. According to his half brother and sister-in-law, his parents couldn't settle on a name, so they came up with Tandyn almost as a whimsical afterthought.
By the time he was 4, young Tandyn was playing classical music by ear on piano. When his parents separated, he and his mother moved into an apartment — a basement apartment — with two pianos.
Tandyn somehow pushed them together and played both at the same time.
He attended a conservatory in Minnesota in his youth, but he soon became fascinated with the jazz of John Coltrane, Miles Davis and Ahmad Jamal. He quit high school at 17 and moved to Chicago to become a jazz pianist. By about 1961, he was in Los Angeles, where his musical interests shifted to the rapidly evolving world of pop and rock music.
"He told me that his head was completely turned around by Bob Dylan," Puterbaugh said. "Up until then, he had been a jazz freak."
According to an account he wrote to an acquaintance on Facebook, Mr. Almer practiced at the music department at UCLA and graduated in 1964 from Los Angeles City College. By that time, he was becoming a fixture at the Troubadour, a Los Angeles folk-music club where he occasionally accompanied Linda Ronstadt and other performers on bass.
He also began to experiment with marijuana and LSD, and in some circles, he became renowned for inventing a kind of water pipe, or bong.
By 1965, he had written "Along Comes Mary," which was picked up by the Association. Something about the tune — its rhythmic complexity, its soaring harmonies, the intricate wordplay of its lyrics — impressed more than just the teenagers who danced to it.
On the program, Bernstein lit Mr. Almer's cigarette and praised his sophisticated use of the Dorian mode, a musical scale often used in classical music and jazz.
George Benson, Hugh Masekela, Cal Tjader and other jazz musicians recorded "Along Comes Mary," and amateur musicologists tried to unravel the complicated lyrics, with their internal rhymes and images of youthful alienation.
When vague desire is the fire in the eyes of chicks
Whose sickness is the games they play ...
And when the morning of the warning's passed, the gassed
And flaccid kids are flung across the stars.
Was the song about a girl named Mary, the Virgin Mary or, as many thought, the effects of smoking marijuana?
Even today, Jim Yester, who sang "Along Comes Mary" on the Association's original recording, occasionally reads the lyrics to audiences before singing the song.
"It is mind-blowing when spoken, as opposed to being sung," Yester wrote in an e-mail. "An amazing set of lyrics. What it is saying . . . your guess is as good as mine."
If anyone asked Mr. Almer, he wasn't coy about the meaning: Yes, of course, it was about marijuana.
'The next Dylan'
The success of "Along Comes Mary" made Mr. Almer almost a minor star.
He recorded an album of 11 new songs for Warner Bros. and released a single, "Degeneration Gap" in 1969 that featured his driving piano and his clear, if unrefined, baritone voice.
"Everyone thought he was going to be the next Dylan or Elton John," recalled Joseph Deaguero, a musician who introduced Mr. Almer to Wilson, of the Beach Boys.
"Tandyn was totally an eccentric, but he was in a league of his own. You listen to his music and say, 'God, this guy was really good.' "
He was handsome and talented, but before the spotlight could find Mr. Almer, he retreated from it. He was paralyzed by stagefright, and the album that could have made him famous was never released. He seemed to prefer it that way.
He was a staff songwriter for A&M Records for a while and collaborated with Wilson and others on two songs for the Beach Boys, "Marcella" and "Sail On, Sailor", the latter of which echoes with the internal rhymes characteristic of Mr. Almer.
By 1974, though, Mr. Almer "got frightfully despondent," Deaguero recalled, and left Los Angeles, never to return.
"He packed up everything," Deaguero said, "and I took him to the train station."
After finding his way to Washington, Mr. Almer wrote songs in the 1980s and 1990s for Hexagon, a political satire revue. In the late 1980s, he rented a room in Northern Virginia from jazz saxophonist Herb Smith. He practiced in the rehearsal rooms at Northern Virginia Community College's Annandale campus, where Smith teaches.
"He'd jump on the piano, and I couldn't get him off," Smith said.
Mr. Almer played music day and night, sometimes going without sleep for four days or more.
"He used to tell me the music got better the longer he stayed awake," said Thomas Bernath, a bass player who occasionally rehearsed with Mr. Almer and who is now cataloguing hundreds of tapes found in his apartment. "He didn't feel like playing until he had been awake for two or three days."
Mr. Almer often read books on science, and he began attending local meetings of Mensa — the high-IQ organization — in 1977. Several people said he had occasional long-term girlfriends, but he never married.
"He wasn't shy at all," Bernath said. "He was, unbelievably, a happy guy. There was never any complaining or gnashing of teeth about money.
"He was so sensitive — not in the way of having his feelings hurt. But I almost felt he could read my mind. I've never been around anybody who was that perceptive."
Although he briefly drove a taxi and had a job building computer circuit boards, Mr. Almer lived almost entirely on intermittent royalty checks. Whenever he came into money, he'd buy a new musical keyboard or, sometimes, a used Lincoln Continental.
He was an erratic driver and was often in accidents. Smith said he once got Mr. Almer out of jail after he was arrested for disruptive behavior on a Fairfax County bus.
"He was not sad, really, about these calamities," Smith said. "His bipolar, whatever that is, it never did affect me, and it didn't limit him. I always dug Tandyn being around."
One day, Smith noticed that Mr. Almer had cut his shoulder-length hair. He wanted to look presentable, he said, for his first visit in years to his mother, June Minetor, who is 94 and still lives in Minneapolis. His half-brother, his only other survivor, lives in Rochester, N.Y.
In recent years, Mr. Almer corresponded with acquaintances on Facebook and began to reconnect with old friends. Mostly, though, he stayed in his room, playing music that no one else could hear. He left a body of work of at least 75 songs and possibly as many as 300.
"There are some incredible songs," said Puterbaugh, the music writer who got to know Mr. Almer in the final years of his life. "It's hard to speculate why some of these brilliant compositions never saw the light of day."
"The psychodramas and the traumas [are] gone," Mr. Almer wrote in "Along Comes Mary."
"The songs are left unsung and hung upon the scars."